Half year Figures released by the BVLRA  (British Vehicle Rental & Leasing Association) from their leasing broker members show contracts up 12% year-on-year with the total number of contracts at the end of June 2019 being 338,111, up 35,699 compared to the same period last year.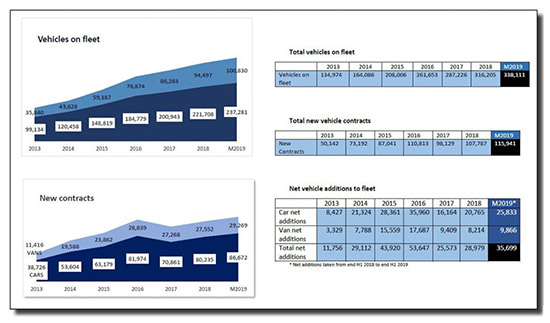 Richard Mayle of First Vehicle Finance comments; ''as the BVRLA report suggests we have seen enquiry numbers growing across our sector with more people acquiring vehicles on monthly contracts as the acceptance of finance support in this way becomes the norm.  We have seen this in both personal contracts and also through our business customers.   We hope to continue capitalise on this growth into 2020 now with our franchise network.''
BVLRA is the UK trade body for companies engaged in vehicle rental, leasing & fleet management of which First Vehicle Finance is a member.
To read the report in more detail visit the BVRLA Website
To find out more about the vehicle finance sector franchise request further information.